Curated projects
Anouk Focquier, founder of Berserk Art Agency, is a curator who, in her work, is interested in and researches the definition of politics, as proposed by German-American philosopher Hannah Arendt. She is interested in creating public spaces of interaction and discussion where art and a diverse audience can enter into dialogue, allowing and embracing the unknown.
Anouk Focquier has a kaleidoscopic view on different art disciplines and has a keen interest in collaborating with independent artists who translate their art in a free and unbound way.
Quasi Museum, Haren Prison
Brussels area, Belgium, 2021 – 2023
Based upon a concept of artist Ief Spincemaille, Anouk Focquier co-curated the project 'Quasi Museum'. Quasi Museum is conceived as an activated art integration project in the prison of Haren, the second largest construction site in Belgian history, inviting both detainees, visitors and the larger neighborhood of Haren to enter into dialogue with this specific space and with one another.
For this large art integration project, Spincemaille and Focquier co-curated the permanent exhibition and invited a selection of artists to create site specific new works.
Selected artists: Adrien Tirtiaux (B), Bart Lodewijks (NL), Maëlle Dufour (B), Daems Van Remoortere (B), Elnino76 (B), Ousama Tabti (ALG), Karina Beumer (NL), Katrien Oosterlink (B), Kristof Van Gestel (B), _Sep Verboom (B) & Gijs Coenen (B)._
Mirror, Mirror, V2Vingt
Brussels, 2021
Invited to make a duo-exhibition, Anouk Focquier brought together two artists researching the topic of the condition humaine, both from a different cultural and art historical background, expressed in – on first sight – two opposing art fields: painting and audiovisual art.
Selected artists: Younes Baba-Ali (MA) + Kristof Van Heeschvelde (B)
Art fairs
Berserk Art Agency is present at a small selection of annual art fairs, where we curate a selection of works by the artists we represent, bringing forward the identity of each artist and their current artistic research.
2022
Art On Paper, Brussels (Belgium) with Daems Van Remoortere + Ief Spincemaille
2021
Art On Paper, Brussels (Belgium) with Bilal Bahir + Elke Andreas Boon + Kristof Van Heeschvelde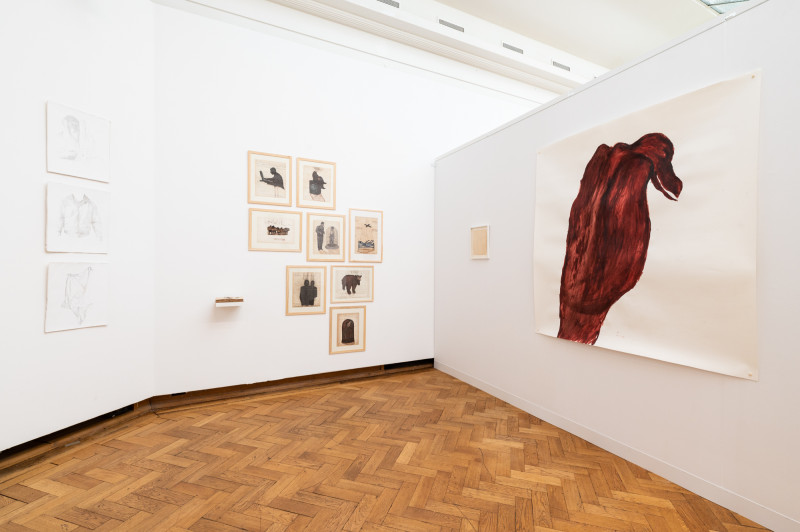 Belgium Art & Design Fair, Ghent (Belgium) with Kristof Van Heeschvelde + Ief Spincemaille