Philippe Van Wolputte
°1982
Visual artist
Philippe Van Wolputte lives and works in Antwerp and Amsterdam.
Van Wolputte is a graduate of St. Lucas Antwerp, 2006. From 2008 until 2010 he was a resident artist at the Rijksakademie van Beeldende Kunsten in Amsterdam.
He has shown his work in multiple solo and group shows at: Kumu Kunstimuseum, Tallinn (EST), BOZAR, Brussels (BE), Anthology Film Archives, New York (NY), Savvy Contemporary, Berlin (D), Raumexperimente, Berlin (D), Zentrum Paul Klee, Bern (CH), Biennale di Penne (ITA), Parallax Space - Drift Station Gallery, Nebraska (VS), Liste 15 Performance Project, Basel, (CH), Pavillon de l'Arsenal, Paris (FR), MuHKA, Antwerp (BE), Objectif-Exhibitions, Antwerp (BE), LLS382, Antwerp (BE), Be-Part, Waregem (BE), Keteleer Gallery, Antwerp (BE), Wilfried Lentz, Rotterdam (NL), Chert Gallery, Berlin (D), Levy Delval, Brussels (BE).
Philippe van Wolputte's installations, interventions and collages show or suggest the possibilities of abandoned, neglected locations which have an important function in the memory and the social landscape of a city and in a way possess a beauty of their own. The artist's interpretation of his experiences in creating his interventions and the intimate manner of viewing these spaces are documented in his photographs, video works and collages.
Since 2005 he started a project called Temporary Penetrable Exhibition Spaces which are site-specific interventions that occur in vacant disused spaces. These buildings are typically demolished by developers and city councils as quickly as possible. The rapid measures taken to demolish these unused spaces are a way to exclude everything that is irrational, chaotic and seemingly unreasonable in urban planning. The TPES project draws attention to the existence of these spaces by making them accessible again for a short period of time. With an almost Freudian-like obsession, using narrow corridors and holes, he creates new passageways and infiltrates nearly impenetrable spaces, giving them a new temporary function as a fictional exhibition space.
His installations are recreations of visited uncanny locations which he discovered during his explorations. He questions the functionality and possibilities by turning them in temporary hideouts or artists work bases.
In the documentation of his interventions he plays with the fetishes of art documentation. By doing this, fiction and reality blur into each other.
ONLINE AVAILABLE PUBLICATIONS
Philippe Van Wolputte 'Temporarily Penetrable Exhibition Spaces'
Shortfilm 'Looking Back While Walking Forward' (2013) - 17'07
CURRICULUM VITAE
Interference 1, 2004
Xerox, impasto, enamel, wood — 125 x 90 cm
Documentation of an intervention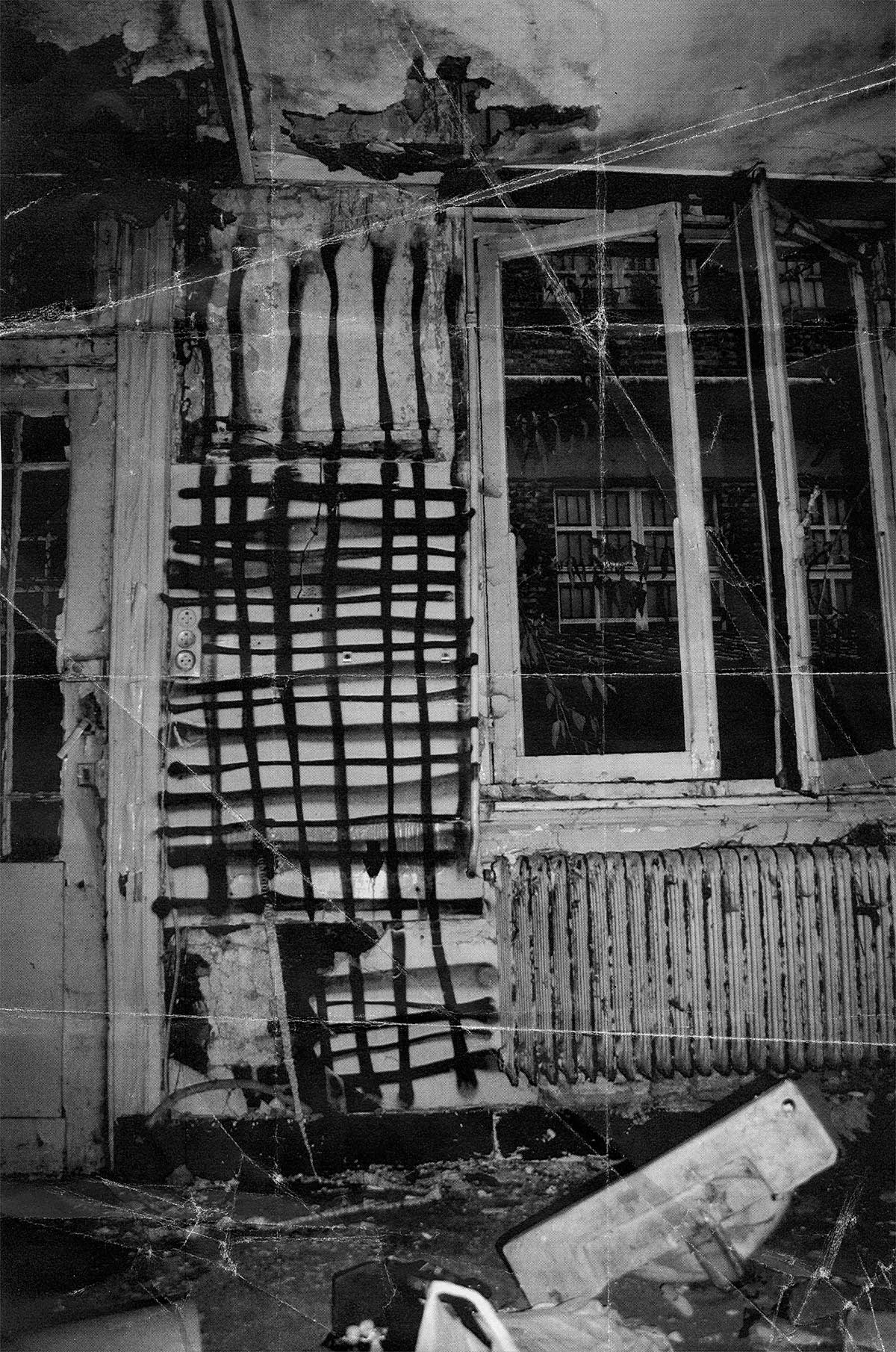 Interference 2, 2004
Xerox, impasto, enamel, wood — 125 x 90 cm
Documentation of an intervention
Interference 3, 2004
Xerox, impasto, enamel, wood — 125 x 90 cm
Documentation of an intervention
Fade Outs, Bepart 1, 2015
Fade Outs, Bepart 0, 2015
Temporary Penetrable Exhibition Space 01, monotype, 2005
Xerox, impasto — 30 x 24 cm — Documentation of an intervention
Temporary Penetrable Exhibition Space 02, 2005 — 2015
Xerox, impasto — 30 x 24 cm — Documentation of an intervention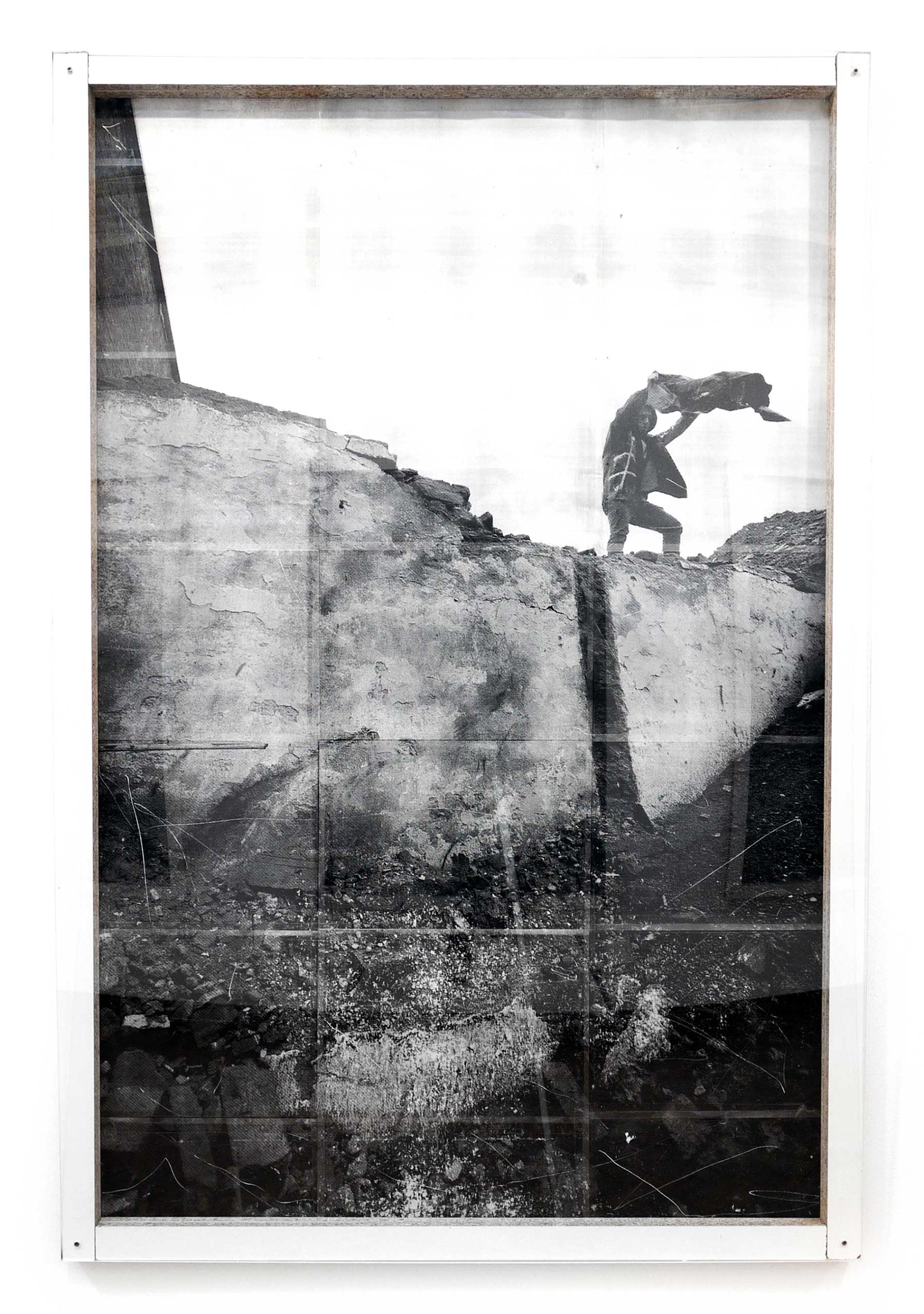 Looking Back While Walking Forward 03, 2013
Xerox, plastic sheets, tape, plexiglass, wood — 170 x 108 cm
Short Time Stay, KUMU Tallinn, 2016
2018 Motions series CAB, Brussels — Ongoing Project
IP 12, 2018
Painted chalk on glass — 82 × 62.5 cm — Part of a series of works made inside the site specific installation 'Tactical Transparency'
IP 14, 2018
Painted chalk on glass — 82 × 62.5 cm — Part of a series of works made inside the site specific installation 'Tactical Transparency'. Part of a series of photographic collages made for the installation 'Looking Back While Walking Forward' at Bozar, Brussels (BE)
IP 21, 2018
Painted chalk on glass — 82 × 62.5 cm — Part of a series of works made inside the site specific installation 'Tactical Transparency'. Part of a series of photographic collages made for the installation 'Looking Back While Walking Forward' at Bozar, Brussels (BE)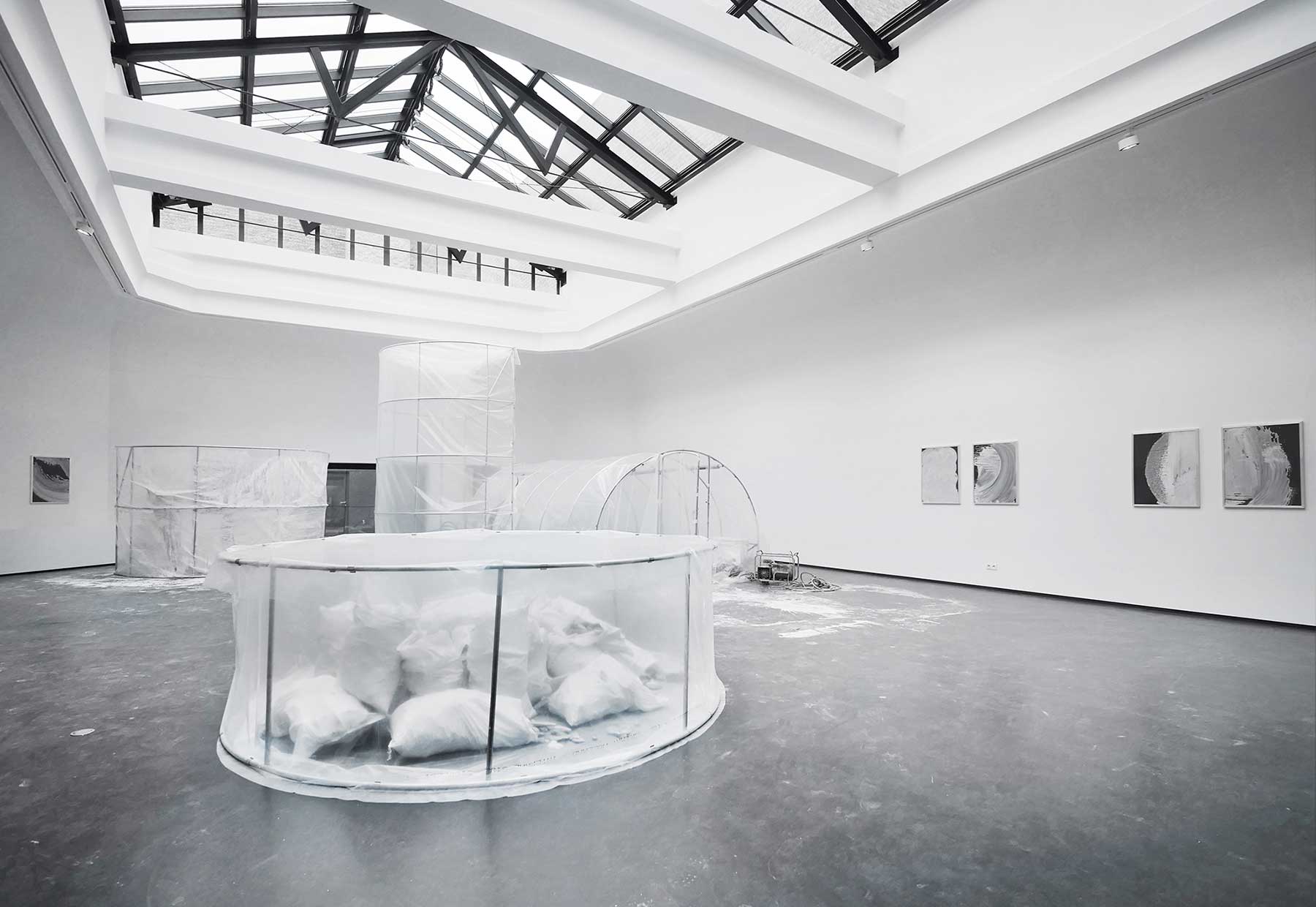 Tactical Transparency, Installation View, 2018
Tactical Transparency, IP Series, 2018
Curriculum Vitae


Born in 1982, Antwerp, Belgium

Studies, Residencies

2007 - 2009 Residency at Rijksacademie, Amsterdam (NL)
2002 - 2006 MFA , Open Atelier at Sint Lucas, Antwerp (BE)

Selected Solo Exhibitions

2019 SECONDroom, Antwerp (BE), Up
2019 Gallery Gallery, Antwerp, It Takes One To Know One
2018 Keteleer Gallery, Antwerp, Tactical Transparency
2017 LLS382, Antwerp (BE), Linked Surfaces
2017 Levy Delval, Brussels (BE), Temporary Penetrable Exhibition Spaces
2015 MuHKa, Antwerp(BE), Temporary Penetrable Exhibition Spaces: Behind The Lines
2015 Be-Part, Waregem (BE), Fade-Outs
2015 Bruthaus, Waregem (BE), Fade-Outs2014 Elaine Levy Project, Brussels (BE), Misfits
2014 Elaine Levy Projects, Solo Booth, Art Rotterdam (NL), Misfits
2012 Elaine Levy Project, Brussels (BE), Inside, Outside, Downside
2010 Chert Gallery, Berlin (D), We Did It / Disputed Territory
2009 Wilfried Lentz, Rotterdam (NL), T.P.E.S. 01/02/03/04
2008 Wilfried Lentz, Rotterdam (NL), Temporary Penetrable Exhibition Space 04

Selected Group Exhibitions

2019 No Narratives - video screening Anthology Film Archives, New York
2018 Motel spatie, Arnhem (NL) Beeldenpark Presikhaaf
2018 New Internation Culture Center (NICC), Antwerp (BE), 20 years NICC
2017 CAB, Brussels (BE), Perpetual Construction
2016 Kumu Kunstimuuseum, Tallinn (EST), Terra Incognit, curated by Kirke Kangro
2016 Pavillon de l'Arsenal, Paris (FR),Vestiges Architecturaux & Vandalisme, Partie II: Non-Lieu
2016 Volume, Paris (FR), Vestiges Architecturaux & Vandalisme Partie I, curated by Punto de Fuga
2016 Cardrde Gallery, Bologna (ITA), Neighbours, curated by Manor Grunewald
2016 Z33, Hasselt (BE), Cinemaximiliaan, curated by Agata Jastrząbek
2016 Citadel'arte, Diest (BE), Zone
2016 Firma, Vilvoorde (BE), En Flamme, curated by Nathalie Vanheule
2016 CC252 Ekeren (BE), The Black Hole, curated by Cakehouse
2016 Cultureel Centrum, Maasmechelen (BE), Ten Dans, curated by Lieven Segers
2015 Dialect Kunstverein, Stuttgart (D), Days End, curated by Thorsten Neumann
2015 Florence Loewy Gallery, Paris (FR), Material, curated by Erik van der Weijde
2015 Komplot, Brussel (BE), Anger Management, curated by Benjamin Jaubert
2015 Riot Gallery, Ghent (BE), The Edition Show, curated by Jurgen Maelfeyt
2014 Kunsthal Extra City (BE), Le Canal
2014 Espace 251 Nord, Liège (BE), Le Canal
2014 Croxhapox, Ghent (BE), CROX 458-467
2014 Bruthaus, Waregem (BE), Versus
2014 252CC, Ekeren(BE), Pre_sent
2014 WMSS, Rotterdam (NL), Wo Meine Sonne Scheint
2014 Factor 44, Antwerp (BE), Nema Tog Podruma
2013 Palais des Beaux-Arts BOZAR, Brussels (BE), Young Belgian Art Prize - Jeune Peinture
2013 Savvy Contemporary, Berlin (D), Perpetual Travellers
2013 Biennale di Penne, (ITA), Playscapes/Workscapes/Innerscapes: Appunti di viaggio al confine fra arte e urbanistica
2013 Komplot, Brussels (BE), Black & Vases
2013 Kunstfort bij Vijfhuizen, Haarlem (NL), Open City
2012 Raumexperimente, Berlin (D), Performing Politics - The World is Not Fair – The Great World's Fair
2012 Fragmental Museum, Elaine Levy Projects in NYC (NYC)
2012 Error One, Lost & Found, Antwerp (BE)
2012 Art Brussel, Brussels (BE), Art in the City
2012 Kunsthall Rotterdam, Showroom Mama, The Kids Are Allright, Rotterdam (NL)
2011 Vrijstaat O. Freestate II, Oostende (BE), Splendid Isolation
2010 Chert Gallery, Berlin (D), Drinnen & Draussen
2010 Klemm's Gallery, Berlin (D), Zero Budget Biennial,
2010 Pianissimo Gallery, Milan (ITA), Zero Budget Biennial
2010 Rokeby Gallery, London (UK), Zero Budget Biennial
2010 Liste 15, Performance Project, Basel, (CH)
2010 Expodium, Utrecht (NL), Malleability Revisited: The Need for New Strategies
2010 Open Space Baltimore, Maryland (VS), Liberty B
2010 Parallax Space - Drift Station Gallery, Nebraska (VS), Instructions for Initial Conditions
2010 Attitude Festival, Komplot / CCPA Elementi, (MA)
2010 Komplot, Brussels (BE), Nothing Political
2010 Bat10 Beeldenroute Anti-Tankgracht, Antwerp (BE)
2010 (Im)possibilites, Urban Festival 10, Zagreb (HR)
2009 Middelheim Museum, Antwerpen (BE), Exhibition in a Machbox
2009 Wilfried Lentz, Rotterdam (NL), Not Created By Human A Hand
2009 Truth or Consequences Fim Festival 2009, New Mexico (VS)
2009 Galerie Carlos Cardenas & schleicher+lange, Paris (FR), Zero Budget Biennial
2009 Vienna International Apartment, Brussels (BE), Pleurer et Bonheur
2009 Sign Stichting, Groningen (NL), i.t.v. Noorderlicht Festival
2009 De Brakke Grond, Amsterdam (NL) The Last Session
2009 Fortezza da Basso, Florence (ITA), The Industrial Ones
2008 Zentrum Paul Klee, Bern (CH), Dragged Down Into Lowercase
2008 NICC, Antwerp (BE), A Bridge Too Far
2008 MuHKa, Antwerp (BE), A4 multiples
2008 YUM21C, Brussels (BE), Laugh Track - Brussels Biennial Off Program
2008 Labdo, Antwerp (BE), 3 Closed Conditions
2007 Objectif-Exhibitions, Antwerp (BE), Tipos Moviles
2007 Hessenhuis, Antwerp (BE), Virus
2006 MuHKa, Antwerp (BE), Academ:: Public Space as a Medium
2006 Showroom MAMA, Rotterdam (NL), Positioning System
2006 Vierkante Zaal, St.Niklaas (BE), Dots
2006 ELIA Conference, Ghent (BE), MAPS in Ghent
2006 Campus Congres, Antwerp (BE), Afstudeerprojecten
2006 Factor 44, Antwerp (BE), Jour Fixe April: The No Name Expo
2006 VZW Emma, Antwerp (BE), Kontra Filmfestival

Fellowships, Grants

2015 Vlaamse Overheid: Projectsubsidie (BE)
2009 Rijksacademie van beeldende kunsten / ministerie van OCW (NL)
2008 Sommerakademie. Zentrum Paul Klee, Bern (CH)
2008 Rijksacademie van beeldende kunsten / ministerie van OCW (NL)
2007 Vlaamse Overheid: Subsidiëring van Projecten Jeugdcultuur (BE)
2006 Vlaamse Overheid: Subsidiëring van Projecten Jeugdcultuur (BE)

Lectures, Debates

2013 Akademiegasten 2013, Kask, Antwerpen (BE)
2012 Campus Congres, Sint Lucas Antwerp (BE)
2011 Decompression, Ruangrupa, National Gallery, Jakarta (IND)
2010 Warzone Amsterdam, Mediamatic, Amsterdam (NL)
2010 Malleability Revisited: The Need for New Strategies, Expodium, Utrecht (NL)
2007 Virus, Hessenhuis, Antwerp (BE)

Prizes

2013 Young Belgian Art Prize - ING Belgium 2013

Publications

2013 Rediviva, Issue # 23
2013 Translation Acts, Performing Politics Raumexperimente
2013 Year 2013, Komplot
2011 Year 2011, Komplot
2011 Freestate II - Splendid Isolation, Vrijstaat O
2010 Drinnen & Draussen, Chert
2010 Bat10 Beeldendenroute Anti-Tank, In-Depth
2009 Open no.18 - Cahier on Art and the Public Domain: 2030: Warzone Amsterdam, Nai Publishers, SKOR
2009 Yes We're Open!, Rijksakademie Portaal Publication
2008 Perfect Town - Philippe Van Wolputte, Tower Of Meaning Publications
2008 Modulated Interior Pictures "On All Fours" - Philippe Van Wolputte, Tower Of Meaning Publications
2008 Dragged Down Into Lowercase. Texts by Clémentine Deliss, Adrian Piper, Joe Scanlan
2008 Open Studios, Rijksakademie Portaal Publication
2006 Dots. texts by S. Van Bellingen, M. Meeuwis, W. De Cuyper
2006 Maps of Art in Public Sphere. Universidad de Castilla-La Mancha Facultad de Bellas Artes
2006 Chronologie Factor 44, 1996-2006 Les Jours Fixes. Texts by C. Straetling, H. Heirmans
2004 Urban act 1: Post-Graffiti-una rivoluzione silenziosa. Texts by L. Lombardi
2004 Reality Models exhibition. Grafoholic