Kristof Van Heeschvelde
°1979
Visual artist
Kristof's work focuses on the behaviors of the homo sapiens, as the Israeli author Yuval Noah Harari described it in his book 'Sapiens', and the world he created for himself.
Using a collage technique, Kristof places different elements together that at first sight have nothing to do with each other and that cannot or do not want to enter into a relationship with each other.
At the same time, these composite realities form a razor-sharp observation of human being and action. Kristof counteracts this critical view by allowing humor and a naive color palette to enter his work. Kristof paints on large canvases, which he hangs free in space. In this way, the painting becomes detached from its medium and the dimensions are extended beyond the frame of the canvas. The painting thus becomes an installation work in which the viewer can walk around. Van Heeschvelde approaches his paintings in other words as a spatial object.
Kristof is an artist who emphasizes the importance of technique and carefully studies the Renaissance old masters to form a basis for his work.
CURRICULUM VITAE
Ah Het Is Met Eten
Oil and pencil on canvas, acrylic, wood — 2021
Ah Het Is Met Eten
2021
Study of Fabric
Silverpoint on paper, acrylic — 2021
Study of Jacket
Silverpoint on paper, acrylic — 2021
Study of Self Portrait
Silverpoint on paper, acrylic — 2021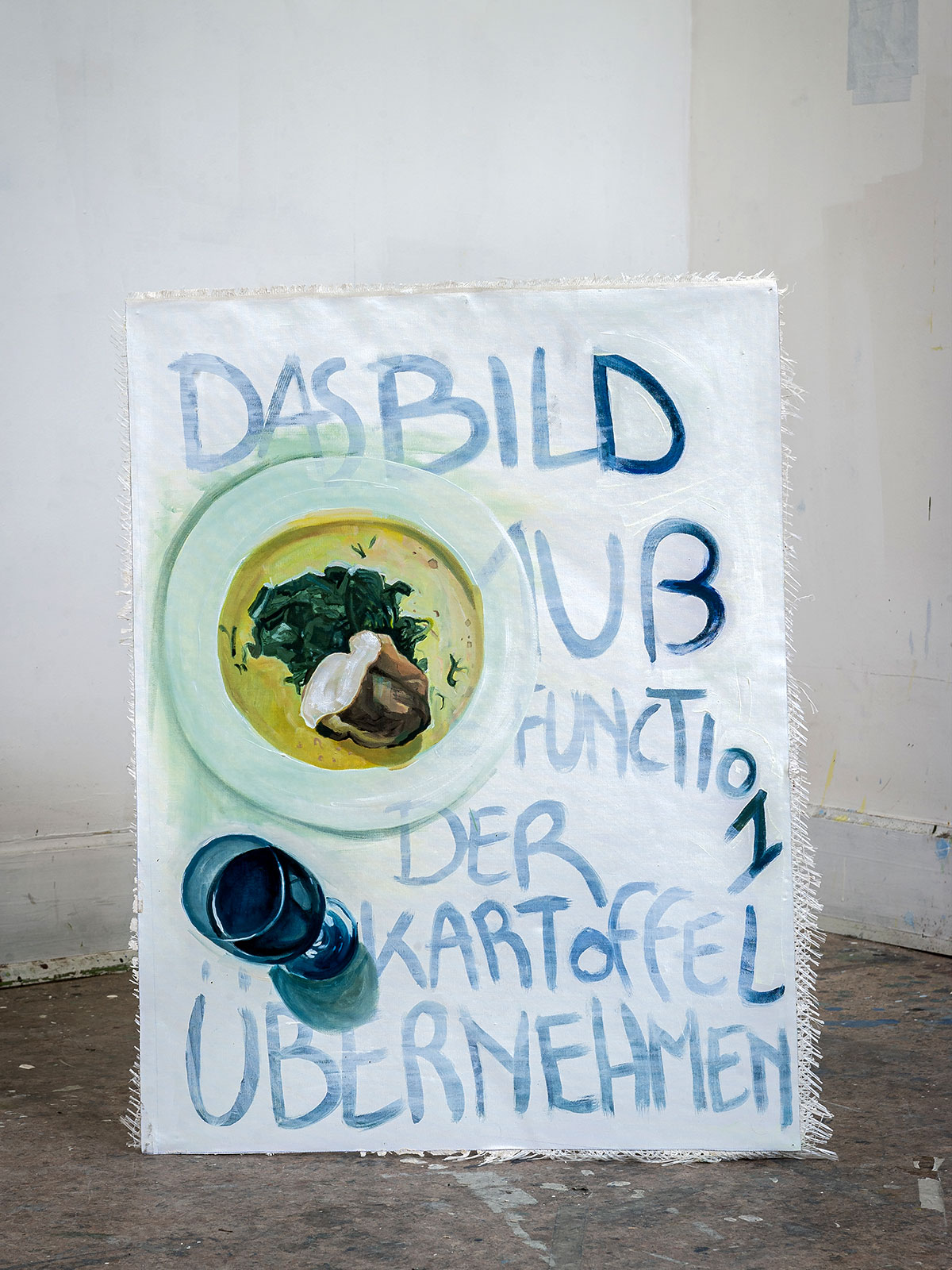 Die Function Der Kartoffel
Oil on canvas, acrylic — 2021
Scheef en Schots
Oil on canvas — 2021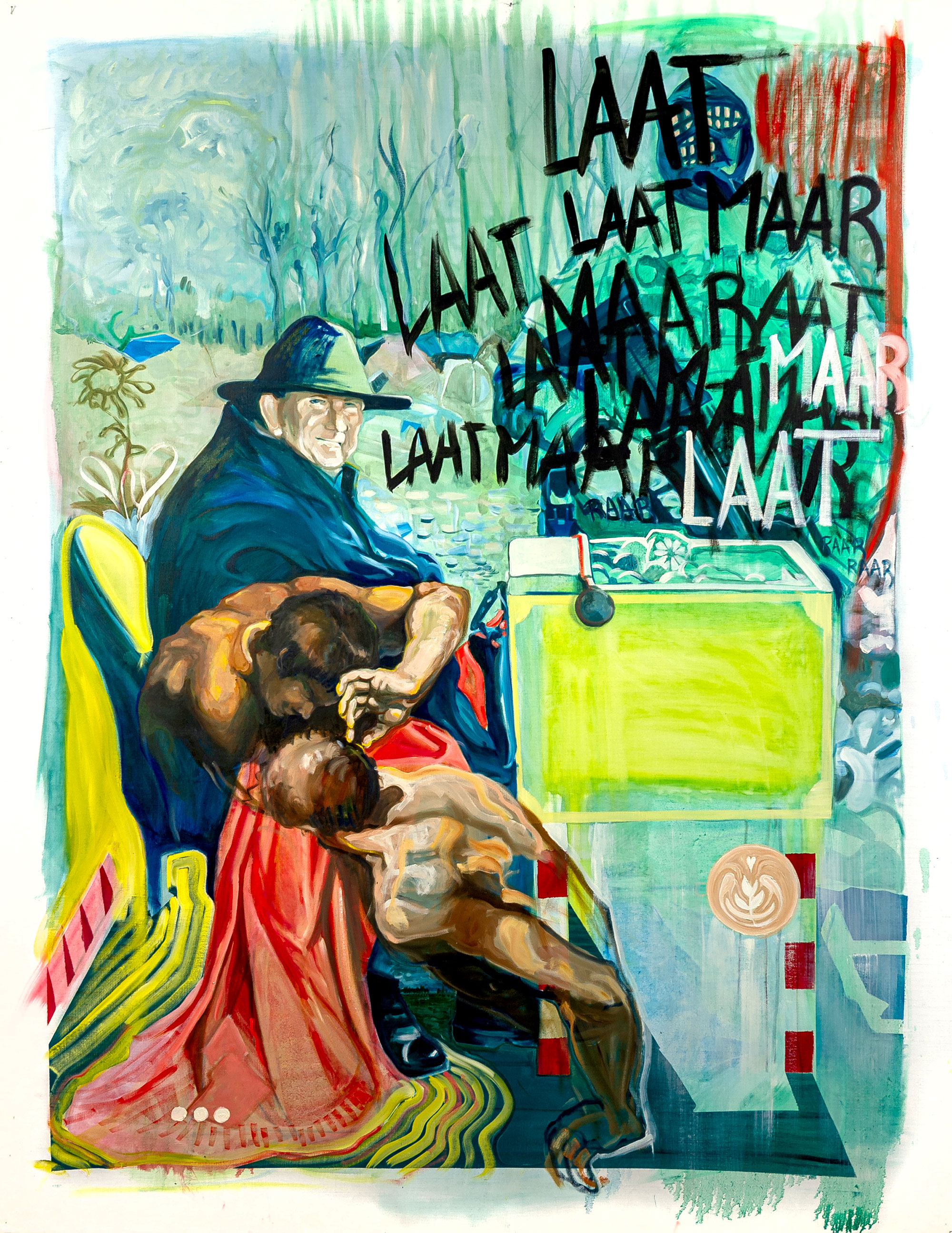 Influencers in the Wild
Oil on canvas — 160 x 200 cm — 2020
Master at Work
Oil on canvas — 170 x 210 cm — 2020
Als het te Koud is Zet je dan Binnen
Oil on canvas — 170 x 210 cm — 2020
De Granola-eter
Oil on canvas — 170 x 210 cm — 2019
Los Caprichos
Oil on canvas — 170 x 210 cm — 2018
Wijze Mannen
Oil on canvas — 170 x 210 cm — 2019
Fake4u
Oil on canvas — 170 x 210 cm — 2016
I wonder what you are doing now
Oil on canvas — 100 x 150 cm — 2016
Caveman
Oil on canvas — 170x210 cm — 2015
Doe nor maal
A1 poster — 2016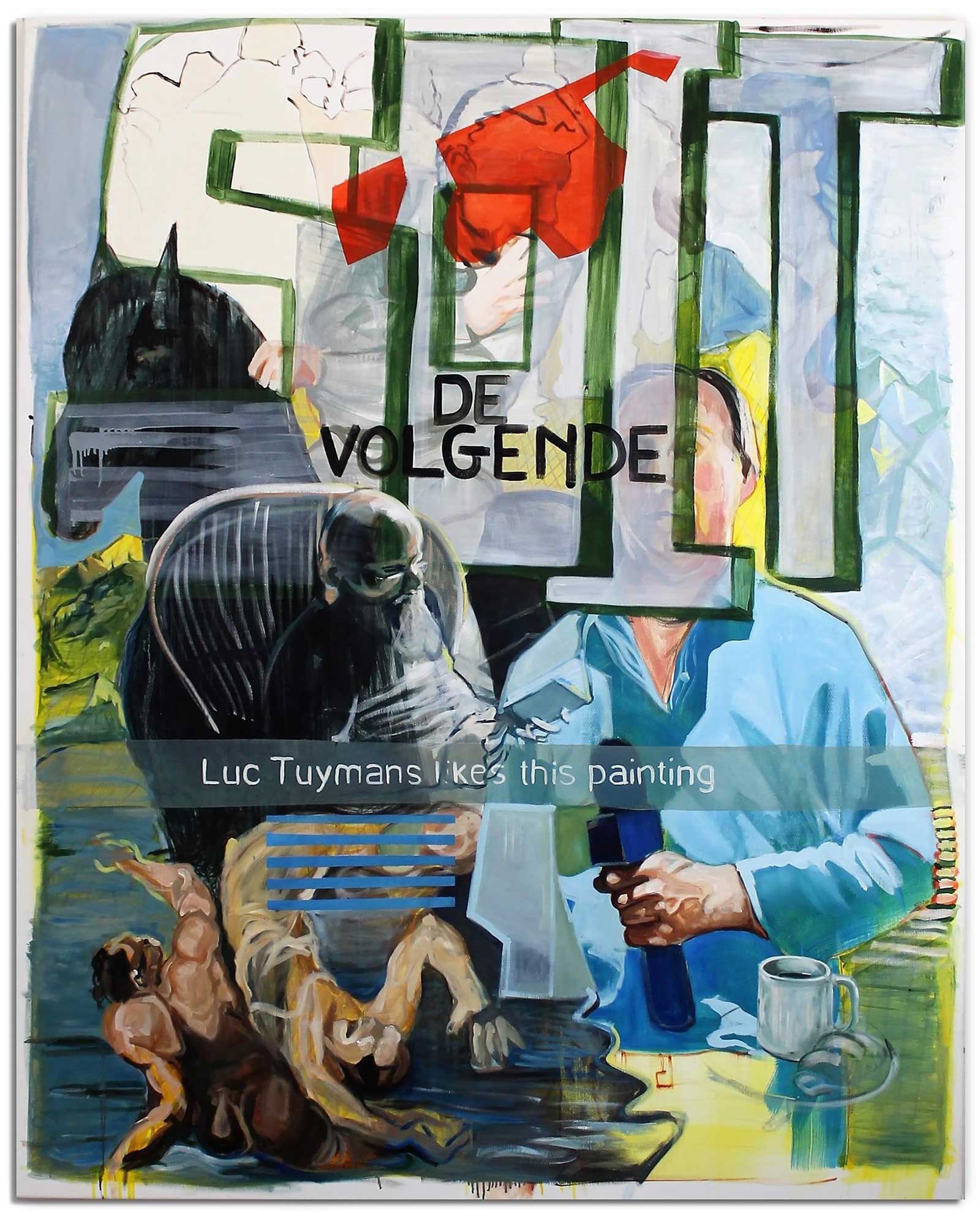 Soit, de volgende / Soit, next one (private collection)
Oil on canvas — 160 x 200 — 2020
Stretched on frame
2018 (private collection)
Oil on canvas — 170 x 210 cm — 2018
Malegazer (private collection)
Oil on canvas — 170 x 210 cm — 2017
Dansendansen (private collection)
Oil on canvas — 100 x 150 cm — 2016
Caps are Apparently out of Fashion (private collection)
Oil on canvas — 170 x 210 cm — 2019
Yellow Brick Road (private collection)
Oil on canvas — 170 x 210 cm — 2018
Curriculum Vitae


Studies

1995 DKO, Sint-Lucas Ghent
1996 DKO, Sint-Lucas Ghent
1997-2001 Figure drawing, Sint Lucas Ghent
1997-2000 Candidate architect, Sint Lucas Ghent
2000-2001 Graduate interior desing, KASK.
2004 CAD-designer
2015 Master in visual arts, fine arts painting

Residencies

2022 Cité Internationale des Arts Paris, granted by the Flemish Government, Paris (France)

Solo Exhibitions

2021 Sorry Not Sorry, a mural for the city of Ghent, Ghent (Belgium)
2021 Zoete Broodjes, De Ververij, Ronse, Belgium curated by Jan Leconte
2019 Nooit Meer, ... of morgen, Nucleo, Gent, Belgium
2018 Niets is Gemakkelijker, SECONDroom Antwerpen, Berchem
2017 In-Situ work, BLANCO, Ik DOE NORMAAL gezien altijd mijn best, Ghent
2016 SOLOshow, Muziekacademie Poel, Ghent, Curator Hilde Van Canneyt
2016 SOLOshow, We Could Be Heroes , Galerie Jan Dhaese (Belgium)
2015 SECONDroom Gent, (Belgium)
2014 'De TOESTAND IS HOPELOOS, maar niet ernstig' Freemen Gallery, Aardenburg (Netherlands)
2013 'Please Share', Galerie Jan Dhaese, Ghent(Belgium)
2011 'Mijn naam is Haas', SECONDroom, Gent (Belgium)
2011 'Dropshadows', Stricktly Rabbit, Ghent (Belgium)
2011 'A study for a', vzw De Tweede Helft, Turnhout (Belgium)
2010 'Due to ordinary forgetfulness', Galerie Jan Dhaese, Ghent (Belgium)
2009 Mac Fly, Ghent (Belgium)
2007 Galerie 0000 Wolstraat, Antwerp (Belgium)
2006 Galerie 0000 Wolstraat, Antwerp (Belgium)

Group Exhibitons

2022 Sorry Not Sorry, a mural for Ghent, Kristof Van Heeschvelde, Gent (Belgium)
2021 Kristof van Heeschvelde, Elke Andreas Boon & Bilal Bahir, Art on Paper 6th edition, Bozar, Brussels (Belgium)
2021 Touch-Line(s) #3, group exhibition, Christine Clynckx, Jan Verbruggen, Christiaan Van Haesendonck, Golnesa Rezanezhad, Fred Michiels, Johannes Ulrich Kubiak, Eva Steyenen Deviation(s), Antwerp (Belgium)
2021 There Is A Calm, group exhibition with Katleen Vinck, Christoph Denys, Marc Galle, CAS, Ostend (Belgium)
Geweld & Mededogen, group exhibition with Kendell Geers, Sophie Muller, Danielle Van Zadelhoff, Bilala Bahir, Kristof Hoornaert, Klause Verschuere
2021 Ruby & Friends, group exhibition with Ralf Kokke, Heidi Ukkonen, Ilke Cop, et all, Ruby Gallery, Brussels (Belgium)
2020 Biënnale van de Schilderkunst, Mudel, Deinze, Belgium
2020 Home is Where The Heart is, The Crystal Ship, Ostend, Belgium
2019 Saudade, Niet is wat niet iets anders aanraakt, Watou Kunstenfestival, Watou, Belgium
2019 Biënnale van de Hedendaagse Kunst, Kasteel van Poeke, Belgium
2018 'Verknipt', group show curated by Stef Van Bellingen, WARP Sint-Niklaas.
2018 Yügen#16, group show curated by Jan Hoet Jr., Gent.
2018 Harry & Friends, group show curated by Harlinde de Mol, STOOM Oudenaarde.
2018 WORKFLOW, with Sofie Muller, Wim Delvoye, Dirk Zoete, D.D. Trans, Ane Hjort Guttu, Thomas Leeroy, … curated by Wim Wauman, Sint-Niklaas.
2018 Interventies, With Honoré D'o, Stief De Smet, Robbrecht&Frank/Frank&Robbrecht curated by Platvvorm, Deinze
2017 You Can't , with Stephan Balliex, Benoit Felix, …curated by Bouque Varese, Italy.2017 Kunst&Zwalm, Zwalm, with Leo Copers, Charlie De Voet, Gert Scheerlinck, … , curated by Thijs Van der Linden
2017 SECONDroom Antwerpen, One Night Stand, Berchem
2017 BADbeurs, Ghent, represented by Galerie Jan Dhaese.
2017 Uitgerokken, Duo-show with Kurt Stockman, Ghent. 2016 NO COMMENT, Groupshow with Nicoline Van Stapele, Florian Kiniques, Rudi Bogaerts, Lieve D'hondt, … Curator P.R.E.S.T.I.G.E., Ghent
2016 USCA, groupshow with Rachel Agnew, Bors & Ritiu, Ingrid Castelein, Els Ceulemans, Jenny Cho, Christine Clinckx, Stijn Dierckx, Kris Gevers, Remus Grecu, Jeremy Olson, Doron Polak, Max Razdow, Lieven Segers, Bob Szantyr, Atelier Johan Tahon, Andy Wauman, LG White, @Sarah Yu Zeebroek, … curator Jan Van Woensel, Antwerp
2016 Performance, SECONDroom Antwerpen
2016 Beauty Overdose, groupshow with Anne-mie Van Kerckhoven, Bors & Ritiu, Emerald Rose Whipple, curator Jan Van Woensel, Antwerp.
2016 Groupshow #TIG4, performance, Dit is mijn naam, Curator Bert De Geyter
2015 Geistnight Vol.3 Groupshow, Ghent (Belgium) with Kamagurka, Jeroom, …
2015 PERFORMANCE "This Is My Name" @ Folkestone (UK)
2015 Benefiet auction Museum Dhont Dhaenens
2015 Salon Blanc, with Caroline Coolen, Oostende (Belgium)
2015 Artenova, with Tom Woestenborghs, Frederik Van Simaey, … Mechelen (Belgium)
2015 BLANCO PALOMA DUOshow with Mira Albrecht, Ghent (Belgium)
2015 Tumult in Gent
2015 Ondertussen Chapiter 1, Haarlemse Lente, 37pk, Haarlem (Netherlands)
2014 Ilya Prigogine In Kleur, Ghent, curator Thierry Mortier, with Ben Benaouisse, Nicoline Van Stapele, Peter Weidenbaum, …
2014 Tumult in Gent
2013 All You Need Is In Danger, finnisagehappening, curator Ben Benaouisse
2013 'Poppositions' pop-up fair curator Pieter Vermeulen, Prestige III 'Echange', curator Maaike Leyn, with Gery De Smet, Maaike Leyn, Nicoline van Stapele, … 2013 'P.R.E.S.T.I.G.E. 2 plateau ROZIER', with Mira AlbrechtT-ania Antoshina-BardthesqueBen-BenaouisseChristian-Bors – Marius Ritiu-Brantt-Hedwig Brouckaert-Antonio Claudio Carvalho-Leo Copers-Ann Decaestecker-Mario De Brabandere-Wim de Maat-Kobe De Peuter-Olivier Goethals-Salvador Juanpere-Gerasim Kuznetsov-Stephanie Leblon-Delphine Lebon-Michel Leonardi-Maaike Leyn-Agnes Maes-Sofie Muller-Alan Smith-Nicoline van Stapele, Ghent (Belgium). 2012 'Iedereen is slecht behalve wij', duo with Thjis Van der Linden, Ronse (Belgium)
2012 'Prestige', curator Nicoline Van Stapele, GHent (Belgium), with oa Ben Benaouisse-Mario De Brabandere-Stephanie Leblon
2012 'Level-up", curator Thanh Long Lam, Ghent (Belgium), with oa Joachim Coucke, Mira Albrecht, …
2011 'De Lading', curator Lieven Cateau, Wetteren (Belgium) with Nicoline Van Stapelen, Sara Bomans, …
2010 'Art On Paper', contemporary drawing fair, Brussels (Belgium)
2010 ' Summer Show' Galerie Jan Dhaese, Ghent (Belgium)
2009 'Summer Show' Galerie Jan Dhaese, Ghent (Belgium) – (en)joy 13 x 13, Herentals Belgium, curator Fred Michiels – Grote Prijs Tekenkunst, Ronse (Belgium)
2008 Jeugdhuis Mixit, Landegem (Belgium) – Quartier Exentrique , Ghent (Belgium)) – IPS ruimte, Ghent (Belgium) – Arnoevoo, Bredene (Belgium) – De Grote Prijs Tekenkunst, Ronse (Belgium)- Open Atelierdagen Nucleo, Ghent (Belgium).
2007 'Anekdotisch Formalisme', Artcube, Ghent (Belgium) with Manor Grunewald.

Text biography Kristof Van Heeschvelde by Museum Dhondt — Dhaenens