Koen Broucke
°1965
Visual artist, Performer, Author
Koen Broucke is an extremely versatile artist. He knows how to give shape to his unique universe through image, text and music and the result is incredibly fascinating. Alternating between reality and imagination, historical facts and fantasy, a self-written scenario in which historical figures and fictional characters is brought to life in his work. With his drawings, paintings and performances Koen Broucke has developed a magnificent but also a very distinctive personal style. Guaranteeing him a very special place in the landscape of contemporary Belgian art.
CURRICULUM VITAE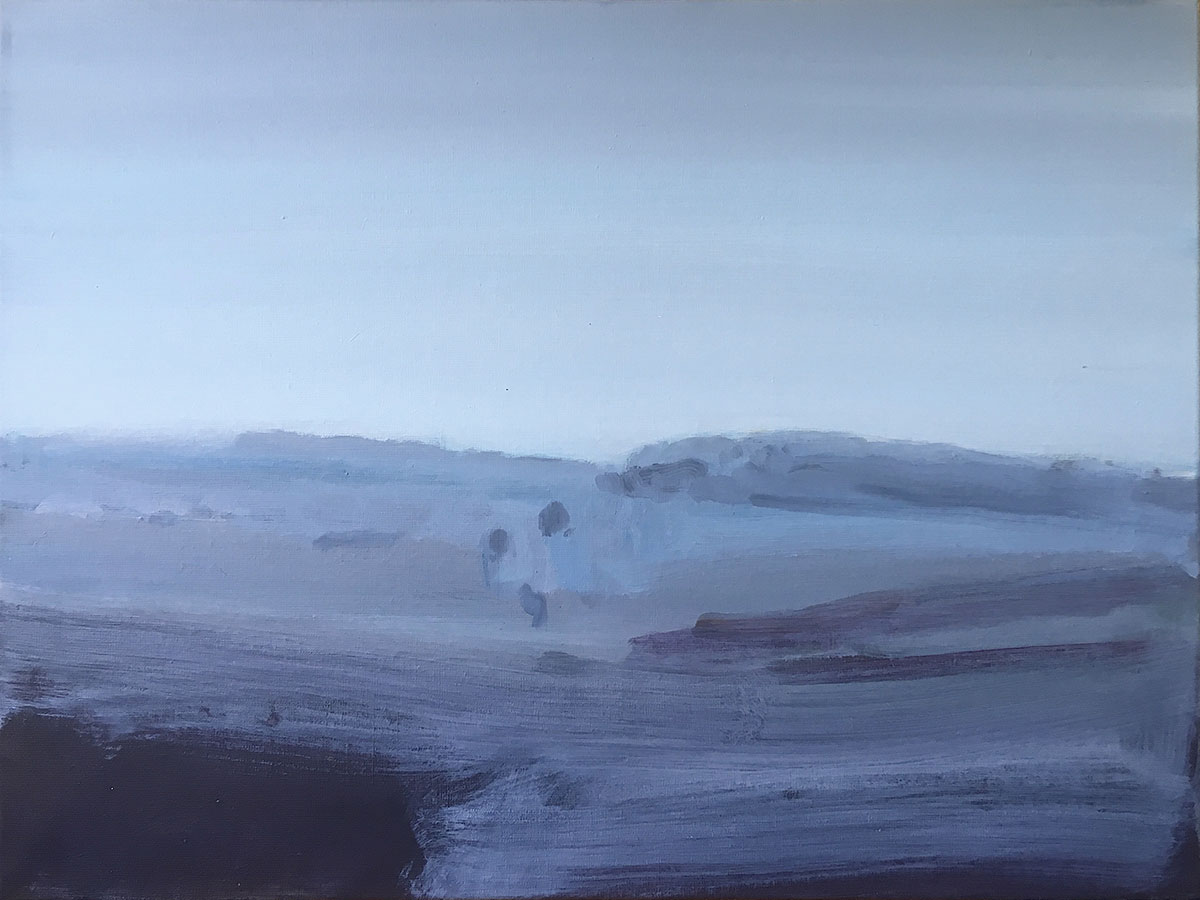 Waterloo! Morne plaine!
Acrylic on canvas — 60 x 80 cm — 20196
De dood van Jacob Van Artevelde!
33 x 41 cm — 2019
Sqiuelette à l'harmonium (Ensor)
Acrylic and pencil on canvas — 30 x 40 cm — 2018
Joseph Roth en de vissen (Noordzee)
30 x 40 cm — 2017
The King Inside The King (private collection)
Watercolor on paper — 2020
Aankomende storm (Mariakerke)
(private collection)
20 x 30 cm — 2019
Curriculum Vitae

Sint Amandsberg (Belgium) — 9 September 1965
2015 Research Fellow, Glasgow School of Art
2016 Tutorial Assistant, Queen's University Belfast
2018 Fellow Academia Belgica, Rome
Studies
2013 PHD student, KU Leuven
1994 Laureate Nationaal Hoger Instituut voor Schone Kunsten, Antwerpen
1987 Master, Universitaire Faculteiten Sint Ignatius Antwerpen & Vrije Universiteit Brussel
Solo exhibitions (selection)
2019 'Les Impreintes De L'Histoire', Salon4Mains, Autun (France)
2018 'Zomer in Waulsort, hommage aan Joseph Mallord William Turner', Anouk Villain Art Gallery, Diepenbeek
2018 'De transformatie van het slagveld', CC Maasmechelen
2018 'De ondraaglijke vreugde van de beelden', De Garage, Mechelen
2018 'Work for the Stage', Muze, Heusden-Zolder
2017-2018 'Manen en laarzen. Bijzondere verschijningen tijdens Turnhoutse veldslagen', Taxandriamuseum & De Warande, Turnhout
2017 'Mental Journey to the Middle East', Pedrami Gallery, Antwerpen
2016 'Hypocrief', Demian, Antwerpen
2016 'How long have you been in Scotland?', Light Cube Art Gallery, Ronse
2015 'The Beauty of War, Waterloo 1815-2015', Koninklijke Bibliotheek, Brussel
2015 'Our Travelling Circus Life, Anouk Vilain Art Gallery, Diepenbeek
2014 'Miavoye', A la Vierge Poupine, Antwerpen
2014 'Night in the Vineyard', Light Cube Art Gallery, Ronse
2014 'After-image, Koen Broucke, Jan Cockx, Vincent Van Gogh', Museum Felixart, Drogenbos
2014 'Dark and Emotional and Energetic, Portraits of Musicians and Performance Drawings', Bernaerts Platform, Antwerpen
2013 'The Sleeping Beauty', Gasthuiskapel, Borgloon
2013 'L'amour sacré, l'amour profane', Light Cube Art Gallery, Ronse
2013 'Nocturnes, Galerie Zwart Huis, Knokke
2012 'De Schilder, het werk & het atelier', Caesuur, Middelburg (The Netherlands)
2012 'Voetsporen', Ververs Gallery, Amsterdam (The Netherlands)
2012 'A diachronic Perspective on Human Connections', Light Cube Art Gallery, Ronse
2011 'Les vertiges de la folie', Musée de la Vie Wallonne, Liège
2011 'In residence', CC Hasselt
2011 'Tekeningen en schilderijen', Galerie Van Duyse, Antwerpen
2008 'Botanische tekeningen 1996-2007', Huis Van Winckel, Dendermonde
2006 'Het kabinet van dokter Hahneman', Museum Dr Guislain, Gent
2005 Pori Art Museum, Pori (Finland)
2005 'My Private Path', Vuojoki Mansion, Vuojoki (Finland)
2005 'Geert Hahneman, or the Sickness of the Artist Today', Lokaal 01, Breda (The Netherlands)
1999 'Keuzes', Tim Van Laere Gallery, Antwerpen
1998 'Menskundige Notities', Stedelijk Museum Het Domein, Sittard (The Netherlands)
1997 Tim Van Laere Gallery, Antwerpen
1995 Galerie de Batailles, Vrije Universiteit Brussel
1994 Academiegalerie, Nationaal Hoger Instituur voor Schone Kunsten, Antwerpen
1993 De Warande, Turnhout
1993 Jordaenshuis, Antwerpen
1993 Academia Belgica, Rome (Italy)
Group exhibitions (selection)
2020 Art Autun, Autun, France
2019 Biënnale Van De Hedendaagse Kunst, Kasteel van Poeke, Belgium
2019 The Apocryphal Cabinet of the Adornes, Adornes Domain, Brugges, Belgium
2017 'Disclosure' (with Johan Laethem, Stéphanie Leblon, Koen Broucke & Sarah Westphal), Slotklooster, Tielt
2016 'Adapt-r', Ambika P3, University of Westminster, London
2016 'Roommates' (with Karel Dierickx, Lode Laperre, Eugène Leroy & Bart Vandevijvere), Kunstenhuis, Harelbeke
2015 'Kunst en dialoog: dialoog tussen de Gemeenschappen', Belgian Senate, Brussels (with: Pierre Alechinsky, Jacques Charlier, Patrick Corillon, Ann Veronica Janssens, Hubert Malfait, Léon Spilliaert, Henri-Victor Wolvens ea)
2015 'Art Fort' (curator: Marc Ruyters), Fortengordel, Antwerpen
2015 'A Belgian Politician' (curator: Tom Liekens and Lieven Segers), Marion de Cannière Art Space, Antwerpen
2014 'Alpine Club Boechout', Stadsplein, Mortsel
2013 'Oorlog en trauma', Museum Dr Guislain, Gent
2013 'Crossing lines again', WorkPlace, Antwerpen
2013 '350 jaar Academie', MAS, Antwerpen
2013 'Landkunst op de Oude Buisse Heide', Buisse Heide, Achtmaal (The Netherlands)
2013 'Je meurs de soif auprès de la fontaine', Sint Amanduskapel, Sint Amandsberg (with Gerda Steegmans)
2013 'Echange', Poppositions, Brussels
2013 'Alpine Club Boechout', De Merodelei, Antwerpen
2012 'Sint-Jan' (curator: Jan Hoet and Hans Martens), Sint-Baafskathedraal, Gent
2011 'Con-textures', Light Cube Art Gallery, Ronse
2010 '(when will they finally see) The power of drawing', Geukens & De Vil, Antwerpen
2009 'Fading', Museum van Elsene, Brussel (with Michaël Borremans, Dirk Braeckman, Jean-Marie Bytebier, Bert De Beul, Luc Tuymans, Koen Van den Broek, Jan Vanriet, Jan Van Imschoot ea)
2008 'Idiotenfreiheit', OneTwenty, Gent
2008 'Het spel van de waanzin', Museum Dr Guislain, Gent
2007 'Metamorphosis Naturalis', Erfgoedbibliotheek Hendrik Conscience, Antwerpen
2006 'Bookblast', Lönnström Art Museum, Rauma (Finland)
2006 Mechelen (B), Erfgoedcentrum Lamot, Stadsgezichten, Rik Wouters
2005 'Meunier' in dialoog, Leuven
2003 'Martinique', Lokaal 01, Breda (The Netherands)
2003 'Club Dendermonde' (with Jean-François Van Mullem), CC Belgica, Dendermonde,
2003 'Tijdschrift Revolver 1968-2003, beeldend traject', Sint Jorispand Elzenveld, Antwerpen
2002 'Histories naturals' (with Antonio Domenech and Manuel Saez), Sala de la Muralla, Universitat de Valencia, Valencia (Spain)
2002 'Hofvijver in Poëzie en Beeld'Museum Bredius, Den Haag (The Netherlands)
2002 'Ik of een ander. Belgische zelfportretten', Dexia Galerie, Brussel
2001 'MUHKA te gast, de keuze van Florent Bex' De Beyerd, Breda (The Netherlands)
1999 'Faces, entre portrait et anonymat' (with Georg Baselitz, David Hockney ea), Maison de la Culture, Namur
1999 'Tremendum et Fascinosum', Cultureel Centrum, Berchem
1997 'Reality Revisited', Das Belgische Haus, Köln (Germany)
1997 (with Philip Aguirre y Otegui, Ingrid Mostrey, Viot-Lieck, ICC Koninklijk Museum voor Schone Kunsten, Antwerpen
1996 'All'antica', Sint Lukasgalerij, Brussel
1996 'XXVIIIe Festival international de la peinture Cagnes sur Mer', (France)
1995 'Kunstkammer', CC Westrand, Dilbeek (with David Claerbout)
1993 'Arte e Altro-Giovani Artisti Cinque', Sala 1, Roma (Italy)
Art Fairs
2016 BAD, Belgium Art and Design, Ghent (Light Cube Art Gallery)
2015 The Solo Project, Basel (Switzerland) (Light Cube Art Gallery)
2014 Art The Hague (Light Cube Art Gallery)
2014 The Solo Project, Basel (Switzerland) (Light Cube Art Gallery)
2013 B.ART, Gent (Light Cube Art Gallery)
2012 B.ART, Gent, 'Guns and Roses' (Light Cube Art Gallery)
1999 Art Brussels (Tim Van Laere Gallery)
Exhibitions as curator
2010 'Hommage aan Jan Cockx', Theater Vooruit, Boechout
2002 'Play and Coltrol', Pori Art Museum, Pori (Finland)
2000-2001 'Trage Meesters', Cultureel Centrum, Berchem; Volkskundemuseum, Antwerpen; Gallo-Romeins Museum, Tongeren; De Velinx, Tongeren; Cultuuurcentrum, Brugge; Museum voor Volkskunde, Brugge
2000 'HISK, 15 laureates', Elzenveld, Antwerpen
1998 'Ornamenten van de macht' (with Thierry Lagrange), De Warande, Turnhout
Projects
2014 cover Rebekka Karijord 'Music for Film and Theatre'
2011 'De Brug', Dienst Kunsten, Gent
2002 Mural, Begraafplaats Ruggeveld, Antwerpen
2000 Mural, Rusthuis Sint-Jozef, Kortrijk
2000 Mural, Psychotherapeutisch Centrum , Sint-Jans Molenbeek
1998 Mural, Consciencegebouw (Ministerie van Onderwijs), Brussel
1997 Mural, Roman church, Vossem
Performances and stage (selection)
2017-2018 Debussy/Odyssey ,Ter Dilft, Bornem and other venues, (with Jan Michiels & Juan Parra Cancino)
2017 'Napoleon' De Roma, Antwerpen and other venues (with Bart Van Loo & Geert Hellings)
2016 'Death in Venice', Sint-Niklaaskerk, Willebroek (with Jan Michiels)
2015 'Geisterstimmen im Walde', Schouwburg, Maasmechelen (with Jan Michiels and Piet Van Bockstal)
2015 'Miavoye' 'with Koen Peeters, Peter Holvoet-Hanssen, Pascal Verbeken), Passa Porta Festival, Goudblommeke van Papier, Brussel
2014 'De laatste reis van Paul van Ostaijen', radio play for Klara (with Koen Peeters, Peter Holvoet-Hanssen, Pascal Verbeken, Lut Van der Eycken, Isabel Voets, Rolly Smeets, Annick Lesage)
2014 'Interchange', Bernaerts Platform (with Rebekka Karijord, Lucas Blondeel, Frederik Croene, Geert Hellings, Nicolas Rombouts, Anastassya Savitsky, Giovanni Barcella, Jan Michiels, Piet Van Bockstal, Antoine Broucke, Benjamin Kahn, Peter Holvoet-Hanssen, Liesbeth Devos en Mauro Pawlowski)
2013 'Geisterstimmen im Walde', Ter Dilft, Bornem and other places (with Jan Michiels and Piet Van Bockstal)
2013 'Sunt Lacrimae rerum', Lolaal 01, Breda (The Netherlands)
2011 'L'alouette et le rossignol' #2, CC Hasselt (with Geert Hellings and Nicolas Rombouts)
2011 'Franz Liszt en Venezia', CC Hasselt (with Jan Michiels)
2011 'Stemmen', CC Hasselt (with Lucas Blondeel)
2011 'In residence', CC Hasselt (with Mauro Pawlowski)
2011 Salon Blanc, Oostende
2011 'B^A^C^H', Fort 5, Mortsel and other venues (with Izumi Kiyotaka)
2011 'L'alouette et le rossignol', Galerie Van Duyse, Antwepen (with Geert Hellings & Nicolas Rombouts)
2009 'Bach aan het einde van de nacht', Festival Wintervuur Antwerpen and other places (with Sylvia Traey)
2009 'Via Crucis' Amuz, Antwerpen; Flagey, Brussel ea (with Vlaams Radio Koor en Jan Michiels)
2009 'Moscou/Braaklanden', S.M.A.K., Gent ea (with Pieter Genard)
2009 'In a landscape', Madam Fortuna, Antwerpen (with Hanna Scholtyssek)
2008 'Ik brand en ben van ijs', Festival Wintervuur Antwerpen, Fries Festival, Leeuwaarden & Drachten, Painolamusuem, Amsterdam (with Christiaan Kuyvenhoven) (The Netherlands)
2008 'Coming of Age', Begijnhofkerk, Tongeren (with Christiaan Kuyvenhoven)
2004 'Liszt-Broucke: Our Traveling Circus Life, Ode to Megalomania', Feel Estate, Gent
2004 'Liszt-Boucke, My travelling Circus Life. Ode to Megalomania', Villa Basta, Houthalen
2002 'De man die zijn volk leerde elkaar de smoel inslaan', Nieuwpoort-theater, Gent
1996 'De slapeloosheid', Nova Zembla, Antwerpen
Presentations
2016 De historische sensatie, LUCA, KU Leuven
2016 The Epiphany of HMS Hampshire, Glasgow School of Art, Westminster University, London
2016 The Historical Sensation. About a Helmet with two Bullet Holes, a Skull with a Dent and dead Rabbits, Glasgow School of Art, LUCA, Ghent
2015 Many Ways to Scapa Flow, Bau College Barcelona
Residencies
2015 Isola Comacinea (Italy)
2014 Frans Masereel Centrum, Kasterlee
2013 Atelier Richard Roland Holst, Zundert (The Netherlands)
2011 Van Gogh huis, Zundert (The Netherlands)
2005 Cité Internationale des Arts, Paris
2005 Raumars, Rauma (Finland)
1997 Isola Comacinea (Italy)
1992 Academia Belgica, Roma (Italy)
Text biography & cv Koen Broucke:
www.koenbroucke.com